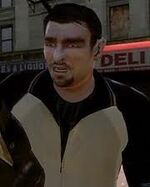 Roman Bellic was born in Serbia but moved to Liberty City when he was twenty-one. He later claimed to be living the "American Dream" and that he had two women, four hot tubs and fifteen sports cars. This prompted his cousin Niko to join him in America, where Niko discovered he owned a small, gritty taxi firm, a small, roach infested apartment in Broker, and had large gambling debts, owed to the Albanians and Vladimir Glebov. Roman is also the boyfriend, later husband, of Mallorie Bardas, and the nephew of Milica Bellic.
Roman is a supporting character in the video game Grand Theft Auto IV.
External links
Edit
Ad blocker interference detected!
Wikia is a free-to-use site that makes money from advertising. We have a modified experience for viewers using ad blockers

Wikia is not accessible if you've made further modifications. Remove the custom ad blocker rule(s) and the page will load as expected.