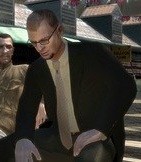 Dimitri Rascalov was a Russian man who had immigrated to Liberty City alongside Mikhail Faustin, and was a major and former partner to many people, including Mikhail, Ray Bulgarin, Niko Bellic, Jimmy Pegorino and many more. Dimitri was known for betraying his friends and partners, showing disloyalty to almost everyone.
Dimitri is the main antagonist in the video game Grand Theft Auto IV.
External links
Edit
Ad blocker interference detected!
Wikia is a free-to-use site that makes money from advertising. We have a modified experience for viewers using ad blockers

Wikia is not accessible if you've made further modifications. Remove the custom ad blocker rule(s) and the page will load as expected.